Ol' Dirty Bastard
- Return to the 36 Chambers (the Dirty Version)
link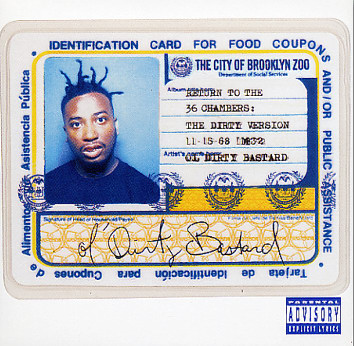 For the next solo debut, ODB (so called because 'there ain't no father to his style') yanks us across the water to Brooklyn Zoo. Cousin of RZA and one of the Wu-founders, ODB is a one-off MC that needs little introduction - coming like a demented, drug-addled hybrid of rapper and soul singer.
RZA produces again, as he does for all the early solo projects, and the murky beats combine with the Drunken Master's off-the-wall, profoundly entertaining meanderings to produce a macabre banger. Tracks like the cautionary 'Snakes' and the minimal 'Cuttin' Headz' are haunting and almost prescient of events to come...
Russell Jones died in late 2004, after years of custodial sentences and eccentricities now bordering mental illness; an autopsy discovered a plastic bag full of coke and prescription painkillers in his stomach.