Thirty-two jolly good reasons to love the Kinks, in their pomp:
A-D
E-R
S-Z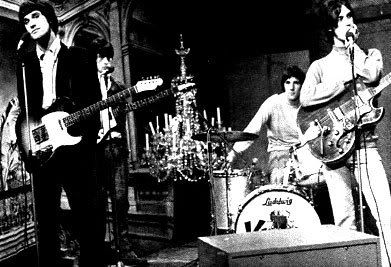 Fine young dandies led by eternal pessimist and English storyteller Ray Davies. Davies steered them and their music away from the vapid celebrity of Carnaby Street and the hippies of Hyde Park; straight into dreamlike, parochial visions of a peaceful life in the countryside and a post-war England fast losing it's identity (whilst rocking the balls off many contemporaries).
Having lost a media-contrived 'battle' was with the Beatles, record sales plummeted and the Kinks never hit their 60's peak again, bar the odd hit.
The 'Village Green Preservation Society' however, lived on through Blur in 'Modern Life Is Rubbish'. One of the most affecting indie albums of the 90's which mourned the state of an Americanized, 'Chemical World' in which
everything
(except the rent)
is cheap. Record of the decade.
If Blur thought they had it bad, pastoral dreamers the Young Knives may as well be fighting a lost cause... But they try, bless them. The Knives have been written off as new-wave suits despite being one of the few to swim against the unrelenting tide of bullshit from our Great Capital.
But don't worry - as long as we have all the online validation and instant ecstasy we can cram into our eyes sockets, nothing useful will get in the way of the photo albums depicting our budding alcoholism and 'wild' toga/school uniform parties on Facebook. Drink up, Johnny.